About us
Honey Noodle and Modern Chinese Cuisines specialise in authentic and truly delicious Chinese and Asian cuisines. We are located at 328 Ruthven St Toowoomba QLD and we are available for delivery and pickup. If you love Chicken or Beef dishes, you can order our Honey Chicken, Lemon Chicken, Sweet and Sour Chicken, Rainbow Beef, BBQ, Mongolian, Chicken/Beef and Vegetables and Thai Curry Chicken/Beef. For our Pork dishes, we have BBQ Pork, Plum Pork, Sweet and Sour Pork and Szechuan Pork. Other specialties include Fried Boneless Duck, Honey King Prawn, BBQ King Prawn, Special Fried Rice and Spring Roll. Please click on our Order Online button to avail of our delivery and pickup services.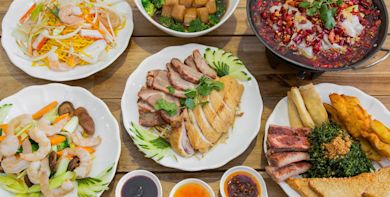 Reviews
Tim
"Food was fresh and hot on delivery and yum, thank you!"
11/01/2020
Tom
"Great sized meal and very yummy."
9/01/2020
Victoria
"Food was delivered so quickly, I'm almost certain they hired a psychic to predict their future orders. Food was fantastic quality as per usual, and the driver was wonderful. Thank you again!"
7/01/2020
Donna
"Good service and great food would recommend Happy Customer"
28/11/2019